Types of ecommerce platform
Frequently described as 'monolithic', traditional ecommerce platforms provide complete solutions. You can sell online from a single platform where you manage and publish your content. Purpose-built templates, business systems integration and additional plugins are often needed to meet your needs. Changes in one area often affect others, so development and testing can be time consuming and expensive.
'Composable' commerce is component-based, allowing you to create unique customer experiences and business processes. You can plug in building blocks like your shopping cart, checkout and payments to suit your needs. Each component is normally customisable and replaceable.
Choosing and connecting so many different building blocks presents challenges. This complex process is best suited to larger digital brands with in-house expertise. A segmented composable architecture can also mean extra costs and operational overheads.
Another familiar term is 'headless' commerce. This alternative to the ecommerce monolith decouples frontend and backend systems. They can then operate independently, providing flexibility and agility without the operational overheads of composable ecommerce. You can use its microservices-based architecture with your existing business systems behind the scenes and a headless customer interface. Headless commerce uses the principles of the microservices-based, API-first, cloud-native and headless (MACH) approach which also enable composable commerce.
Making the most of your ecommerce budget
Initially, a template based platform with out-of-the-box ecommerce features could be the ideal place to start your ecommerce business. However, as your operations grow, your requirements become more specific. At this point, a traditional ecommerce platform might not meet your needs. A headless or composable alternative could provide the flexibility and scalability you're looking for, but which is best?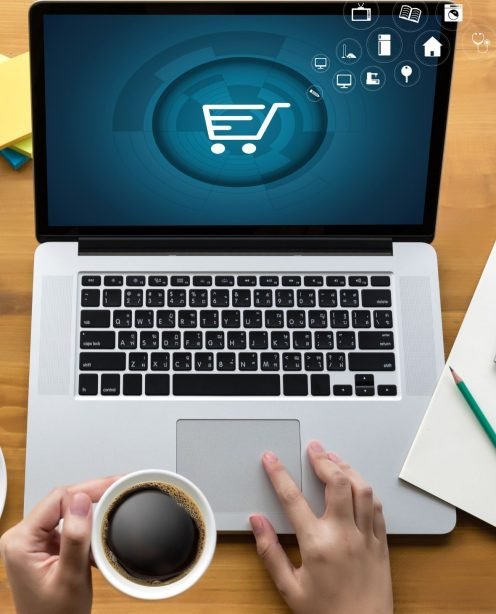 Headless commerce
You have probably added and refined your traditional ecommerce platform over time. Your additional customisations, plugins and patches are likely to create an unwieldy code base that's hard to maintain and support. 
User experience (UX) is one of the top differentiating factors for your business so the ability to develop and innovate is a priority. Slow processes and conflicting demands for your developers' time can hold you back and affect your competitive edge. 
As a result, entrepreneurs and developers looked for a more flexible and agile option and headless commerce was the solution. It provides more scalability and freedom of choice while allowing you to retain the best of your system integrations and business processes. With well-established back end processes, application programming interfaces (APIs) enable creativity and fast implementation of innovative new customer-facing approaches. 
Key to success is an effective and easy-to-use headless content management system (CMS). This allows you to create a flexible frontend presentation layer to deliver fully customer focused experiences.
Elements your customers interact with such as content, buttons, links, checkouts and payments are easily tailored. It's also easy to enhance online experiences with augmented reality, video content, chatbots, voice search and social commerce. You have the tools needed for consistent omnichannel experiences and can create multiple storefronts linked to the same databases. 
At the same time, data storage, product information, customer records, payments and financial information can all be tailored to your needs. When these processes are complete, your users receive a response via your presentation layer. It can all take place in near real time for seamless customer service. 
You'll also have flexibility to create, run and manage omnichannel digital marketing campaigns. You can create more consistent customer experiences with personalised suggestions across different channels and touchpoints. Your marketing team can create and control their digital assets to deliver beautifully branded online purchasing. You can also capture near real time data about customer behaviour and respond quickly without affecting your back office systems. 
Composable Commerce
Each composable element is easy to modify, scale, or replace independently of other system parts. You can use the best components to suit your business. This provides a lot of flexibility to adjust your operations in response to changes in market conditions and customer behaviour.
Headless commerce uses APIs to pass information between the customer presentation layer (front end) and other business systems. With composable commerce APIs pass information between multiple separate functional modules.
You must understand all your business needs very clearly and have in-house knowledge to combine components successfully. You also run the risk of returning to old-fashioned silos of information and operations. Your ecommerce platform no longer limits your capabilities but you could have a lot of 'moving parts' to manage.
Your business ecosystem could also depend on a large number of separate maintenance providers and technology partners. Your developers and IT department need wide-ranging knowledge of all the components, their capabilities and limitations. With multiple components delivering individual business functions you your costs can increase, compared to and integrated headless approach. While many composable solutions work on a low-code or no-code basis suitable for non-technical users, training is still needed.
Headless commerce vs composable commerce – the choice is yours
Headless commerce allows you to decouple online customer experiences from the back office systems that keep your business running. A composable architecture is more complex, combining multiple components for a customised solution. Both approaches have potential to digitally transform your online business. Your choice will depend on your business priorities and the balance between flexibility and complexity.
Un.titled is an experienced ecommerce agency specialising in the arts, cultural and heritage sectors. Data-driven UX design, elegant technology solutions and accessibility compliance are at the heart of everything we do. We help our clients transform their businesses with automated processes and operations. Modern technologies can reduce costs and enhance online stores to meet changing customer expectations. Together, we can set measurable goals for your business and help you achieve them with powerful headless commerce solutions.