We're thrilled with the result of our web redesign with Un.titled – from initial scoping to the final result they have been really supportive, they've helped to deliver a website which we feel is emblematic of our brand and for our wide range of audiences, so easy to use

Rosie Haas, Marketing Manager, London Sinfonietta
What some of our clients say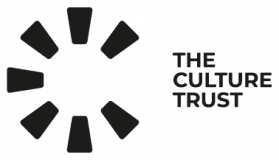 +0% +56% More tickets sold YoY
Working with Un.titled was a pleasure. The scoping process for the site gave us a unique insight into who our customers are and the journey they take when visiting our site, which was fundamental to the final build. Our website now reflects more effectively who we are and what we do. In the first 6 months since the launch, we have seen our engagement levels rise significantly.

Guy Smith, Director of Business Performance, The Culture Trust Luton
0% 50% increase in returning visitors
Un.titled have been hugely instrumental in designing and implementing a website that achieves everything we set out to do. Since launching the new website, online sales have gone from around 45% (where they'd been languishing for a long while) to 65% of overall sales. As a charity, our main objective was to encourage donations; in the first six months of 2018/19 we raised more online than in the whole of 2017/18. The site is simple to edit and Un.titled are responsive to tech support issues when they crop up. We have had universally excellent feedback on the look and ease of use of our website and it's really given The Queen's Hall's presence in the marketplace. That all this was also achieved in eleven weeks from appointment to launch is quite incredible.

Emma Mortimore, Marketing Manager, The Queen's Hall
Features include
Interpretation
We want to understand your brand vision as soon as possible, pin down your goals and aims and identify how we can help make sure your brand works for digital, across all channels and all devices. We look to gain a proper understanding of the unique selling points associated with you offer, across your brand, products and/or services and identify the key values that need to be communicated through the design. We also develop a clear picture of your customers, so that their needs can be folded into the visual design as well.
Direction
This is the perfect opportunity for everybody involved to get inspired. We both share ideas, brands and sites we like, and we offer our expertise around what we think works well in your industry. Via benchmarking exercises, we sit down and explore competitor brands and inspirational designs. We hunt out relevant models elsewhere that we collectively think could be reimagined and used for your own brand. As part of this we look to bring to the table innovative, disruptive sites and encourage outside-the-box thinking, to challenge preconceived ideas and assumptions.
Concept and Design
We turn our discussions into a series of design recommendations typically covering font suggestions, font sizes, image treatment and colour palette options. The design stage is where the magic happens. This phase is where we establish the design language and set the right foundations to create a visual online presence that sets you apart from your competitors. We look to craft designs that are long-lasting, futureproof and resonate with visitors.
Digital Guidelines
Once we've worked through all of the above, we'll create a new set of online brand and design guidelines for you. It'll include rules and recommendations covering typography, image treatment, colour usage and more. It'll make it easier for you to maintain the integrity of the design and prove invaluable over time (e.g. when onboarding new members of staff or when talking to other partners about your digital design needs).
Frequently asked questions
What if I don't know about design language?
If terms like typography, modular scale and iconography aren't part of your usual lexicon, don't worry. We keep things simple and explain everything there is to know. It's vital everybody involved is on the same page, so we'll talk about design in the best, clearest way we can.
What if I only require certain services?
Though we offer the full spectrum of visual design services, we're more than happy to discuss specific parts. If you already have a strong visual brand but need help reflecting it online, we can help. We're happy to discuss requirements on a case-by-case basis.
I just need web brand guidelines. Can you help?
Yep. If you just want a set of guidelines that everybody can stick to when creating/using your visual brand, Un.titled can discuss this with you and put a document together for you to use.
What can I expect from the Un.titled team?
We do things in a human way that makes things as easy as possible for the client, and can be relied on. It's the best way to become a trusted digital partner and foster a long term relationship.
We've just had our brand refreshed. How will you work with that?
We look to understand how the new branding has been put together, and where it positions you. Has it been produced with digital in mind? Have colours and typography been incorporated into digital? Has imagery been used? Has the theme changed to compliment a new brand direction? These are the questions we'd look to get answered in order to create a clear picture of your new brand. We would also look to run design direction engagement processes to establish strong foundations to build your new branding on.