No time like the present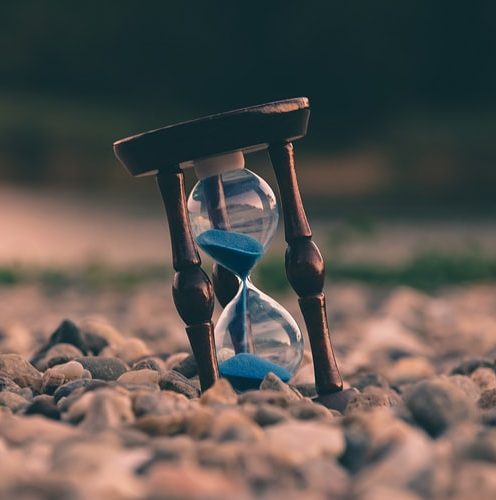 We were helping organisations transform their digital presence long before the pandemic started. However, we've definitely seen the COVID-19 outbreak act as a catalyst for a higher number of companies thinking about improving their digital presence, and then actioning this at a fast pace.
Being active online, having a robust and accessible website that represents your brand well, and knowing how to engage your audiences across the channels they prefer is no longer a nice-to-have. It's become the main focus area for many organisations struggling to cope with the effects of the pandemic.
That's where developing a digital roadmap comes in. There is no such thing as future proofing in digital but a digital roadmap is as near to one as you're likely to get, acting as a guide and framework when navigating the only constant there is, change (whether stable progress or as more recently, disruption and volatility). Put together and run well, it will feed and promote organisational resilience and sustainability.
How to get started
When it comes to developing actionable digital roadmaps that are data-driven and aligned with an organisation's goals and vision, we recommend following these steps:
Identify your long-term objectives
Define and understand your audiences
Create a 'State of the Nation' report with recommendations in order of priority, and an accompanying action plan
Develop a Measurement Model
Implement and iterate
Identifying your digital objectives
First, you need to know what you're aiming for. What do you want your digital operation to deliver? With what you have to offer, how will you acquire audiences, engage them, and fulfill your organisational mission at the same time?
Begin with a clear set of digital objectives that are recognised and endorsed across the organisation, as they will be the guiding light throughout the whole process of developing your digital roadmap.
Define and understand your audiences
The yin to your digital yang - of course your organisation has an in-depth understanding of your audiences, but is that knowledge shared and recognisable to everyone? Do you know how you're delivering on your audiences' needs? Do you know how those needs are prioritised? In the immediate aftermath of the COVID-19 pandemic, how will they have changed and will they be the same (the answer is no btw, which makes this point even more important).
By researching and defining digital personas, you can better understand the context, behaviour and needs of your users when they engage with what you do, and this is the bedrock upon which creating an engaging and 'sticky' user experience for your digital offer rests.
What's a 'State of the Nation' report?
Before you figure out how to go where you want to go, it's important to understand where you stand. A 'State of the Nation' report helps you do just that - take stock of your organisation's current positioning and performance across all digital properties. It will identify key trends in your industry, compare you against peer competitors and identify new opportunity areas all within a digital context.
Depending on your existing digital marketing activities and the channels you employ, there are various components that go into a 'State of the Nation' report, as this should be tailored to your organisation's goals and the resources available. However, broadly speaking some of the elements most 'State of the Nation' reports we produce have in common include:
Executive Summary with key trends and insights for your organisations, as well as the wider sector
Competitor analysis with a focus on your website's positioning versus that of your peer competitors
Performance review and recommendations for specific digital marketing channels and tactics such as Paid Search, Social Media, SEO, Email, Conversion Rate Optimisation
Additional sections to review aspects such as your Retention vs Acquisition strategy and performance, Loyalty & Referral programme, Membership/Donations programme and more
The best part? When done properly, this report will provide you with rich insights and actionable recommendations - we normally sort them in order of priority by taking into account the expected impact and ease of implementation for each recommendation we make. Long story short, the 'State of the Nation' is your first tangible step on the road to completing your digital roadmap.
Why You Need a Measurement Model
We strongly believe in data-driven processes, whether that's for marketing, UX or the web builds we do. When it comes to developing a digital roadmap, data is just as important. But it's not enough to collate it and analyse it - you also need to make sense of what the data is showing, and more importantly link it to your overarching goals, and use it to keep track of performance and make sure that you're actually hitting these goals.
That's where our Measurement Model comes into play. We've previously discussed how our measurement model drives digital growth, including the steps it takes to bring it to life. Once you've followed these steps, the output is a dashboard that you can use to keep an eye on how things progress, track your goals, and the best part is that because we use Google Data Studio to set this up, it can also update pretty much in real time.
We even have a demo dashboard you can check out here.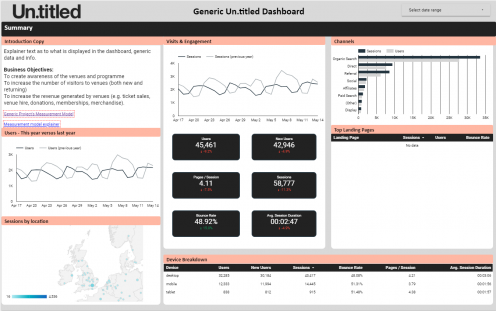 Iterate, iterate, iterate
You've now done your 'State of the Nation', created an action plan and set up a measurement model. Things are progressing along nicely, you're starting to see a shift in performance, and 6-12 months in, you're running out of things to tick off from your action plan. Time to sit back and relax, right?
Well, not really. In the digital world (just like in the offline one), things change fast. That's why, to succeed, this whole process relies on iterating and improving on what you've implemented and achieved so far, on a regular basis.
Every 12 months or so, we recommend running a new 'State of the Nation' to see what's changed and update your action plan to keep ahead of the competition. Maybe even your goals will shift as you continue to grow online, and as new technologies, trends and shifts in user behaviours emerge.
A good approach is dividing your action plan and roadmap into 'sprints' of activity and tackling these one at a time. Having an overarching strategy for your entire digital presence, will also ensure that you're on the right track and making the best use of your precious marketing budget.
For example, you can drive all the traffic you want, but if your website is not converting well, then it's all for nothing. And the same goes for having a stunning website - if it's not SEO optimised and no one can find it, or if your ads campaigns are not targeting the right audience, then you won't get much use out of it. The key here is to make sure that your digital presence is consistent and optimised across all channels, but also that you put your target audience front of mind when doing all of this work.
We hope this blog has been helpful in getting you on the road to developing your digital roadmap, but if you need a helping hand with it, just say [email protected].