It would be easy to think it might mean that 'some' users won't be able to access elements of your offering. You might think that has a minimal impact, but web accessibility needs to be thought of in a much wider context and for all users.
The disability charity Scope reported that 'three-quarters of disabled people and their families have walked away from a UK business because of poor accessibility or customer service and businesses lose approximately £2bn a month by ignoring the needs of disabled people.'
"The power of the web is in its universality. Access by everyone regardless of disability is an essential aspect."
Tim Berners-Lee, Director of the World Wide Web Consortium
How is brand perception affected?
The accessibility and usability of any site is pivotal to a user's experience of it. Both aim to define and deliver a more intuitive user experience. This in turn affects their perception of it. It's important to understand the connection between these concepts, so that usability isn't overshadowed by accessibility.
In the words of the Web Accessibility Initiative: 'When designers, developers, and project managers approach accessibility as a checklist to meet these standards, the focus is only on the technical aspects of accessibility. As a result, the human interaction aspect is often lost, and accessibility is not achieved.'
Essentially, like it or not, poor usability and/or accessibility will negatively affect a user's perception of your site and brand.
How is brand perception affected?
There are real risks for brands that don't embrace accessibility when it comes to brand reputation, particularly with younger consumers.
Accessible by design found that many people - including those with visual, hearing, speech and cognitive disabilities - responded negatively to brands that failed on accessibility and usability points.
40% of people surveyed would have negative actions towards the brands, saying that they wouldn't purchase from the brand and wouldn't recommend the brand to others.
81% of people reported a negative response, in that they felt disconnected from the brand, felt less excited about the brand, felt like the brand lacked positive qualities, and felt like the brand was unreliable.
These negative responses are a brand's worst nightmare and the opposite of what they want to put across. It's clear that businesses need to protect and enhance their brands. A clear commitment to accessibility can demonstrate that a business has a genuine sense of Corporate Social Responsibility (CSR).
Accessibility goes beyond that responsibility though. It can help drive innovation thanks to accessibility features solving unanticipated issues. Diversity and inclusion efforts can be accelerated with a clear accessibility commitment. You can also reach more users, and align with digital accessibility legislation which is law in certain countries.
So what do good levels of accessibility and usability give users?
When brands are accessible, they reap a host of benefits and spark positive emotions, including feelings of satisfaction, happiness, support and inclusion. This all helps ensure your brand is well thought of and that users will return to it.
Having an audit
Curious about how your site is performing and want to know more about how we can help?
An audit is the best way to identify how your website is performing against a range of criteria around accessibility and usability. There are several levels of audit with varying degrees of depth of analysis, but all outline a clearer picture of where the site is and present a series of actionable recommendations with priority levels against each.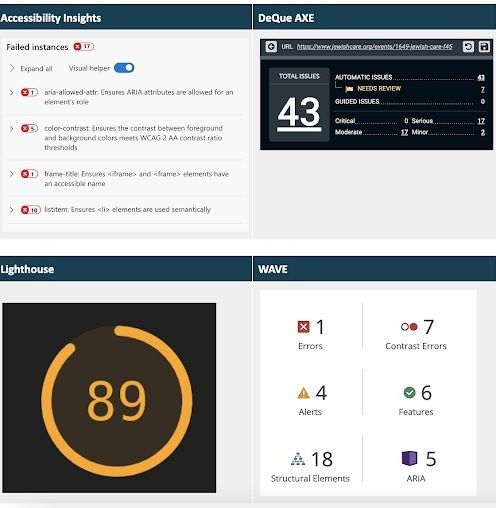 Publish an Accessibility Statement
Once you have decided to commit to accessibility, write a statement that outlines what you're doing and why you believe it to be important. The statement should reflect your company's manifesto around accessibility and must also include certain criteria.
Public sector sites, for example, are bound by law to pass WCAG 2.1 standards and so their accessibility statement needs to outline this. Also include areas where the standards are not being met, and what the roadmap is to remedy this.