All in all, The Culture Trust Luton manages 12 venues and welcomes almost a million visitors each year to its various locations, employing nearly 300 people.
Un.titled was brought in to build and launch a new website for The Culture Trust Luton to help increase awareness of the cultural work the charity does.
The new site is fully responsive, with a UX design informed by The Culture Trust Luton's elegant new branding.
Developed in Drupal 8, editors can manage every element of the site across the entire The Culture Trust Luton offer and programme. This means core and supporting content, every venue and service, every menu and navigation, and function of the site can be easily altered and managed. This covers structure, users, event importers and more.
This approach is all part of what we build into all our work, in order to provide site editors with true flexibility.
This is our tenth site that uses the super impressive ticketing software, and the The Culture Trust Luton website now makes really good use of our Spektrix integration module. It automatically pulls event and performance information, while also managing the booking and purchase pathway, seamlessly integrating with Spektrix ticketing system.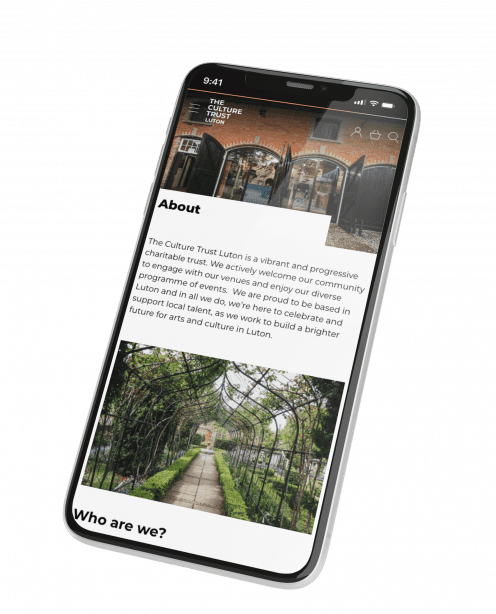 Un.titled also built a simple Shopify store for The Culture Trust Luton, allowing people to buy gifts and items from across the range of The Culture Trust Luton venues.
We also worked with the The Culture Trust Luton team to create email templates and helped guide their brand into this digital interface.
"We regularly visited Luton and it's venues to gather a greater sense of its culture and what this charity promotes," said Sanjay Katwa, head of UX at Un.titled. "Moving forward, we feel this website will help this thriving and developing place make the most of its potential and move into the digital era."
Using our well proven process, Un.titled worked closely with The Culture Trust Luton team to co-design, collaborate and execute a beautiful site.
It's been great to be a part of a project that will truly help unify such great places in Luton via a central digital space.