Our origins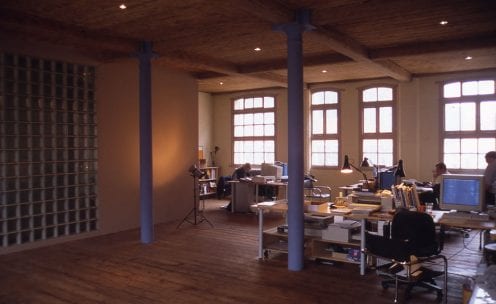 Un.titled was born on 14th November 1998 when company founder Giles Marshall renovated Factory 21 on Leicester's Wellington Street. This became Un.titled's first headquarters.
The first iteration of the Un.titled website was built shortly afterwards in Flash, and had no CMS. It seems like a long time ago now, but this was the start of a wonderful learning curve and passion for web design that continues to this day.
Building a Reputation
Over the following years, we worked with some major brands to help revolutionise their digital offering. In our first decade, we worked closely with the likes of Ben Sherman, Kickers, Puma, Phoenix Cinema and Clarks Original. Our work with these great brands covered everything from ecommerce to user experience design, bespoke development to content production.
These relationships and the work we produced saw us forge a reputation as the creative force we are today.
In 2008, we were delighted and honoured to work on the Design Leicestershire book. Teaming up with other creative agencies, we provided the art direction for this publication which showcases design industries across the county of Leicestershire. This book is still popular and can be found on bookshelves across the city.
Inspired by Digital
Our focus over the next few years became increasingly around digital design. In 2013, we produced a limited edition screenprint with support from GF Smith.
By 2016, our reputation in the digital design industry was firmly cemented. We extended our work into design and art direction, as well as digital strategy, user experience design and bespoke web development. Still working with several of our original clients including Clarks Originals and Phoenix Cinema, by now we'd added John Smedley, Hand and Lock and Curve Theatre to our roster of great clients.
Growth
Recent years have been a time of growth and transition for Un.titled.
In 2017, Williams Commerce acquired Un.titled. This brought together Williams Commerce's ecommerce and digital marketing expertise with Un.titled's pedigree in the user experience and print design space.
And earlier this year, London-based digital agency Tincan joined Un.titled. Working across the cultural, heritage and not-for-profit sectors, with a similar focus on digital project delivery, the Un.titled family and our service offering has significantly expanded.
We now house expertise across brand development, print design, digital marketing, user experience design, user research and testing, system integration and rock solid project management. Moreover, we are skilled practitioners in multiple technologies not least Drupal, WordPress and Shopify and continue to grow our integration expertise in both CRM and ticketing platforms such as Tessitura, Spektrix, Vista and SalesForce. It's a rare mix and it means we are very much a full service agency.
In terms of our roster, we now work with over 60 clients and that wonderful cast includes Young Vic, Clarks Originals, John Smedley, Sir John Soane Museum, Homeless Link, Broadway Cinema, Reading Council, Carers Trust, Mall Galleries, Marketing Edinburgh, Live Theatre and Film Hub Midlands (shameless plug: a project which is being profiled in an upcoming issue of NET magazine).
Moreover major projects this year include new and upgraded Drupal and WordPress sites for London Sinfonietta, St Albans Museums and Galleries, and Olney Theatre.
What next?
Now working out of both Leicester and London, with a growing team of 15 digital specialists in the firm, we'll soon be launching a brand new website for ourselves – yep, Happy Birthday Us! More importantly, we're developing new sites for Ealing Borough Council, Broadway Cinema, Minack Theatre, Culture Edinburgh, Just Hype and the excellent With and For Girls.
We are very proud of our work to date. We're as passionate about digital as we were all those years ago.
Additionally, to help celebrate this milestone, we're willing to share our PPC expertise and offer our clients free* PPC audits.
Here's to another 20 years!
*Offer valid only for new or existing clients we haven't worked with on PPC before. To claim your free PPC audit please email us on [email protected]. Offer expires 31/11/2018. Only 1 PPC audit per client. Applicable for a top-line PPC audit for your Google Ads account, including recommendations.