Talk #1 – The Rise of Personal Reality
Award-winning tech journalist Oliver Franklin-Wallis discussed the changes technology and particularly digital algorithms are bringing to society.
He explained how new ideas are coming all the time and changing how we experience reality, with examples being Pokemon Go and Nura Headphones.
Franklin-Wallis also explained how modern technology and services are delivering increasingly personalised experiences, with music, advertisements and TV providing a different experience  for everybody due to the algorithms used. These algorithms can however be twisted and manipulated.
He concluded by citing a parallel between technology's algorithm usage and general division, with a lack of 'watercooler moments' in this age of personal reality. But added that humans pick emotion over reason, so encouraged people not to steal ideas, but instead listen to what people want.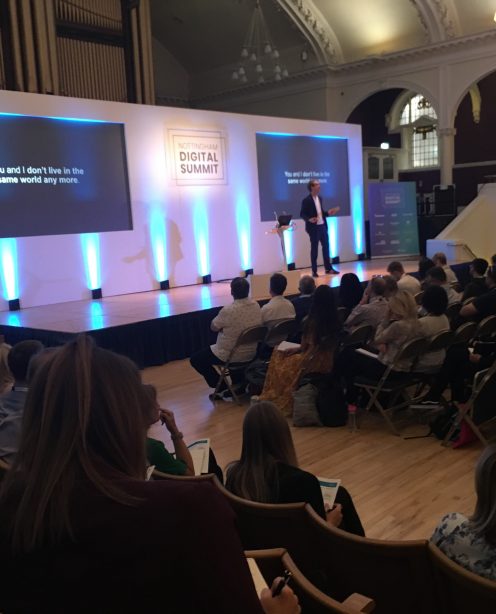 Talk #2 – Marketing in a Digital World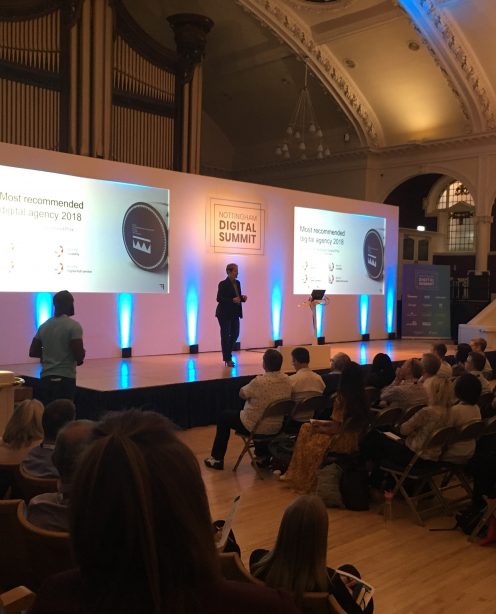 Hallam's CEO and Founder Susan Hallam MBE discussed the technologies and trends that are changing modern marketing.
She started by saying that customers will always be the most important part of marketing, but that today's customers are technology rich, but time poor.
She also encouraged considerations around algorithm optimisation, and said that the human interface will become the premium service.
Hallam concluded by saying the key to creating customer intimacy is by melding of operational excellence and emotional intelligence.
Talk #3 – We have ruined the web – let's try and save it!
SEO expert Barry Adams picked out some of the things we see online that he believes are clogging up the web and making it a bad place.
Gathered or bought links, content plans, carousels and advertisements all came in for a lambasting from Adams in a lively and engaging talk.
He reiterated that with all this noise and confusion online, the differentiator is treating customers as the precious commodity they truly are.
Talk #4 – Future-Proofing in the Digital Era
Google's Roxanne Brownlee looked at how businesses need to stay agile and innovative. She pointed out the rapid decline of Blockbuster as an example of a company who were not agile enough.
'Agility is the difference between surviving and thriving.'
So how to stay agile?
Brownlee suggested moving with the times, with video, machine learning and artificial intelligence all areas of growth that can be explored.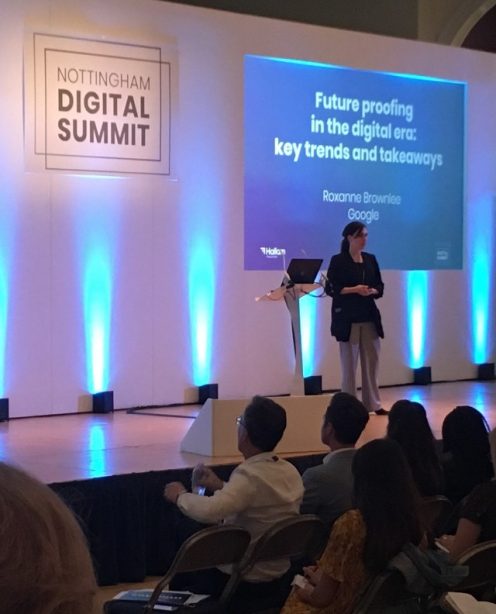 Talk #5 – SEO Roundtable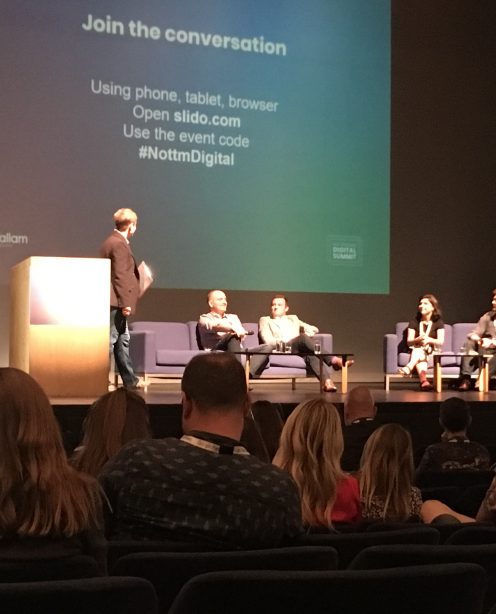 Barry Adams, Daniel Woodhouse of Experian, Charlotte Tomlinson of Hallam and Dave Cain of Boots took part in an SEO roundtable, discussing topics such as machine-readable content, Google's 200 SEO factors, zero click results and how to humanise SEO, as well as authenticity and trust in the modern age.
They advised making sure that content is 100% unique and being expertise led. With regards to link-building and SEO, one interesting idea was to move away from thinking of this as 'link-building', and instead as 'link-earning'.
Talk #6 – Focus on Social
Kieran S-Lawler of Hallam discussed the need to define your perfect persona and prioritise the social media channels your audience are chiefly using.
He said that images are a must on social media. He also said that listening to customers, engaging with them via competitions, polls and conversations, and staying on top of what's trending can help you reach more people and be more dynamic through social media.
He provided tips such as using insights, carefully choosing where you spend, asking your followers questions, and following and engaging with influencers.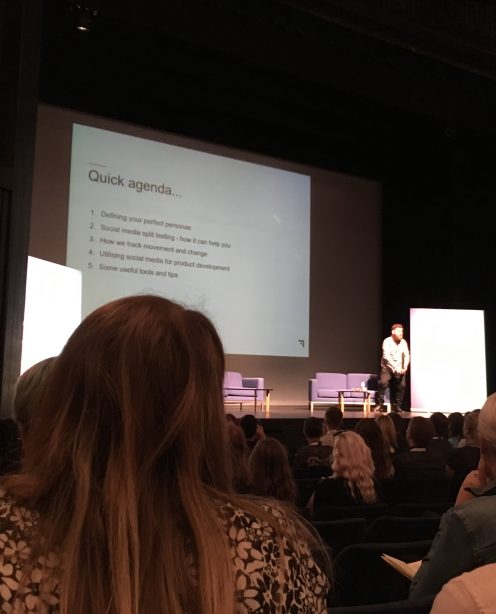 Talk #7 – Creating Influential Content
Buzzsumo's Susan Moeller spoke about the proliferation of content online and some of the difficulties this poses.
For example, 50% of content gets less than 4 shares and 0 backlinks.
She advised taking the time to truly understand your industry, audience, promotion, collaboration and results. She said to think of content marketing as 'data-driven' empathy.
Most importantly, make sure that content is relevant, appropriate and valuable.
Some Key Takeaways
One thing jumped out across all the talks and discussions - the value of customers and reaching them in a humanised way. It's a digital world for sure, but ultimately humans are at the core of everything we do and to lose sight of that is a big danger.
Agility is vital. Sitting on your laurels is no good. Times change and you've got to change with them!
Treacle Toffee ice cream is really nice in the afternoon.
Thanks to the team behind Nottingham Digital Summit. A really good event and one we'll certainly be returning too in the future!
Something jumped out to you? Say hello to the Un.titled team and we'll discuss further.