First though, a quick review of Shopify.
As an ecommerce platform for online stores and retail point-of-sale systems, Shopify is a behemoth. As of June 2019, Shopify reported that it had more than 1,000,000 businesses in approximately 175 countries using its platform. In 2018, it generated sales exceeding US$41+ billion (UK£32+ billion).
As a Software-as-a-Service ('SaaS') platform, you don't own a copy of the Shopify software but rather pay a monthly fee to use it by signing up to one of Shopify's five plans. You also don't need to install it locally because it's a 'hosted' solution. As such, you don't need to worry about buying hosting either.
The exact functionality you get from Shopify depends on which pricing plan you choose. We look at the five Shopify plans below, but it's worth noting that all Shopify plans allow you to sell an unlimited number of products (digital or physical) and all but one allow you to pick a 'theme' which you can use to sell your products with (your 'theme' is basically your template or web design).
The five Shopify plans
There are five Shopify plans:
Shopify Lite - $9 (c. £7.15) per month
Basic Shopify - $29 (c. £23) per month
Shopify - $79 (c. £62.75) per month
Advanced Shopify - $299 (c. £237.50) per month
Shopify Plus - negotiable, but starting at $2000 (c. £1595) per month
(Note: Shopify always displays and charges in $US, the above £UK are conversion rate estimates, using XE.com correct of June 2020)
If you have the budget to pay upfront, annual and biennial plans offer 10% and 20% discounts respectively (i.e. if you pay for one year or two years of service upfront, instead of paying on a month-by-month basis).
Key differences between Shopify plans
Key features to watch out for, and not miss by selecting the wrong Shopify pricing plan, are:
- Staff accounts — these allow you to give different members of your team different permissions. You are allowed 2 staff accounts on the 'Basic Shopify' plan, 5 on the 'Shopify' plan and 15 on the 'Advanced Shopify' plan
- Reporting — professional reporting functionality is only available on the $79 'Shopify' plans and up. Advanced reporting tools, which allow you to create custom reports, are only provided on the most expensive 'Advanced' and 'Shopify Plus' plans
- Real time carrier shipping — this is only available on the most expensive 'Advanced Shopify' plan
- Inventory locations — with Shopify you can assign inventory to retail stores, warehouses, pop-ups etc., but the number of locations you can use depends on the plan
- Transaction / credit card fees — these get lower as you go up the Shopify pricing ladder
Shopify Plus, the enterprise-grade version of Shopify, provides all the above premium features, but additionally provides some functionality aimed at more demanding and high performance businesses, namely:
- Sales automation tools
- API support
- Guaranteed server uptime
- Dedicated SSL / IP address
- Advanced security features
- Concierge level of support via a dedicated 'Merchant Success Manager'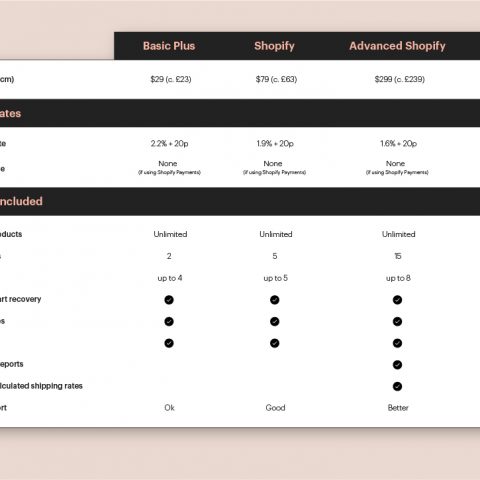 So which plan is right for me?
Shopify Lite
This is ideal for anyone with an existing site that wants to add very basic and simple ecommerce functionality. For example, you might already have a WordPress blog or website that you want to display products on — this solution is ideal for you.
Basic Shopify
If you need a good looking and functional online store, but you don't want to pay for the additional features in the more expensive Shopify plans, this is the sweet spot for you. It's also the plan you go with if you don't already have a website that you can pair with the Lite plan above.
'Basic Shopify' is good for merchants who:
- have a fairly limited budget but need a well-specced standalone online store
- do not need advanced selling or reporting functionality
- do not need extensive POS functionality
- want to use blogging as a means of attracting inbound traffic
Shopify
The 'Shopify' works nicely for companies that plan on scaling up quickly, since the unlimited products and unlimited storage ensure that all of your items fit well into the site. If your site brings in more than £4k per month, the Shopify plan is a good idea, since the transaction fees drop due to the volume when using external payment gateways. You also get the abandoned cart recovery tool, which is known to improve sales without much work on your end.
The 'Shopify' plan is good for merchants who:
- Have or expect a high volume of online sales. If the sales levels are high enough, the lower transaction fees will help offset the higher monthly cost
- Require more in-depth reporting
- Want to make use of discounted shipping rates
Advanced Shopify
The Advanced Shopify Plan serves companies that would rather have their shipping handled by a third party. It's also nice for high-revenue companies that crave advanced reports, which allow for testing and projecting. You also save a bit of money with the decreased transaction fees and Shopify shipping discounts, making it ideal for companies bringing in over £20k per month.
The 'Advanced Shopify' plan is good for merchants who:
- Have or expect a high volume of online sales. As with the 'Shopify' plan, if sales levels are high enough, the lower transaction fees could provide considerable savings
- Require advanced reporting features
- Need real-time-carrier shipping
Shopify Plus
At $2000 a month for a Shopify Plus contract, it's a step up from the $299 a month Shopify Advanced plan, but the perfect platform for businesses that want to focus on rapid growth without compromising on security and support.
If one of the thousands of approved third party applications on the Shopify app store doesn't meet a particular business need, Shopify Plus also gives you total access to all of the same REST and GraphQL APIs used by Shopify's in-house development team. Granting you with the freedom to build anything from a micro-app to power stock messaging to an entirely headless Shopify implementation.
A Plus plan also gives you access to migration and automation features that can cut days off your initial replatforming time as well as your day-to-day ecommerce tasks.
If you have a large team, want lots of customisation, need lots of automation and you don't want to waste time on managing your orders, Shopify Plus is the way to automate that. In terms of sales, the generally accepted rule is that if you're achieving yearly online sales of £1M and above, Shopify Plus is a good fit.
Shopify Plus is for typically faster moving, larger businesses who have:
- An extremely high volume of sales
- A need to create very bespoke connections between Shopify and internal systems (CRM tools etc.)
- A desire to automate workflows
- Very particular requirements regarding security and uptime
- A decent budget
- A need for more hand holding
So how do you know when is the right time to upgrade between Shopify's plans?
Signals & Goals
More often than not, upgrading between plans is a sign that you're doing well. It's also an opportunity to drive growth, improve customer experience and help simplify business operations.
Understand your pain points and challenges
Are you spending more time managing than selling? Is time spent doing administration and backend tasks preventing you from focusing more on selling and meeting your customers? If so, an upgrade can give you the opportunity to capitalise on greater resources to shift the focus back onto your main priorities.
Too many repetitive tasks
If repetitive tasks are preventing you from focusing on new growth opportunities, automation could save you time and money. Shopify Plus for example contains automation tools like Launchpad and Flow. Launchpad is great for automating front end tasks like marketing campaigns or big product pushes. Flow is focussed on automating back end tasks like tags on new products, product reorders and more.
When you outgrow your staff accounts
If your business is growing and you're employing more staff that can help with your online sales, more staff accounts will be advantageous. Different versions of Shopify offer a different number of staff accounts (Basic = 5, Shopify = 8; Advanced = 15).
When you're expanding, especially internationally
International expansion may seem like a pipedream when starting out, but the reality is if you find a winning formula for your product sales, geography shouldn't stop you from spreading to new potential customers. Shopify Plus is really good when you need to broaden your store's horizons. Shopify Plus customers can capitalise on 9 different clone stores, which can be perfect for diving into new markets and customise languages and currency among other factors.
For us, there are some clear signs that it might be the right time to upgrade:
Your current plan is holding you back
If your current plan is proving more expensive to run than the next plan up (for example due to the TCO - Total Cost of Ownership - being higher when you combine monthly fees, transactional fees and plug-in costs and the like), upgrading is an obvious step.
When you need to start customising your store's checkout
You can use pre-existing themes on any Shopify plan OR you can develop your own custom theme. Shopify has some really excellent paid-for themes that will serve most Basic Shopify and Shopify needs and a good many Shopify Advanced needs too. Custom themes require more time and effort, as such you're more likely to start looking at this as an option when you're looking at Advanced or Plus. If you feel you're at the point where a heavily customised checkout is going to be worthwhile (e.g. in order to personalise the customer experience even more), then you might still be looking at Advanced but more likely Shopify Plus.
When you're opening new locations
Equally, if you're assigning inventory to multiple locations - retail stores, warehouses, pop-ups, or wherever you store products - AND you're opening new locations, then you'll need to upgrade - you're allowed up to 4 for Basic, up to 5 for Shopify and up to 8 for Advanced.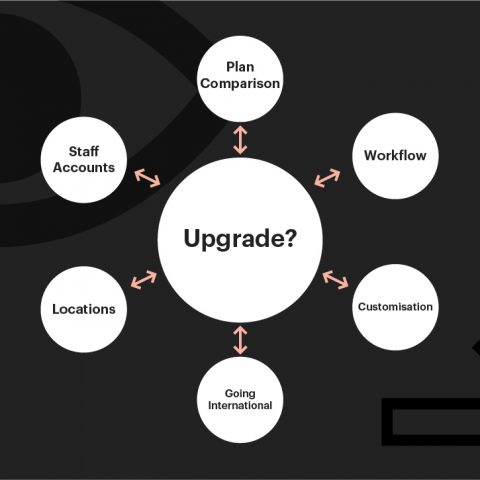 Un.titled and Shopify
If you are considering a Shopify upgrade, having Shopify experts to hand can make all the difference.
Un.titled is a Shopify Plus partner, placing us in the ideal position to help your business take steps up the Shopify ladder to higher levels of powerful ecommerce. You can also try Shopify free for 14 days today!
Say hello. Let's talk. And let's take that first step together.