Who are Coin Street?
Coin Street owns 13 acres of land stretching from the National Theatre to London Bridge. Back in the 1960s, this was predominantly an old industrial area, with ports and warehouses characterising it. Today, it is home to co-op housing, shops, restaurants, bars, gallery spaces, sports facilities and communal gardens.   
Coin Street manages the utilisation of spaces in their area and use of facilities and outlets visited by tourists and people who work in the area. Additionally, Coin Street owns the famous Oxo Tower, today home to a revered restaurant owned by the Harvey Nichols brand. 
Coin Street also focuses on providing affordable housing in the area and in leading community work in this populous part of Central London. This includes access to mother and baby services, as well as recreational facilities such as gyms and football pitches. 
What challenges were Coin Street facing?
As well as overseeing the management of the services and spaces it offers, Coin Street operates a commercial business so they can invest further in their community. This side of the business handles the rental of the event and meeting spaces on the South Bank, as well as things like filming requests (think Love Actually and This Morning). 
The organisation found itself in the unusual position of having one of its brands – the Oxo Tower – being more identifiable and iconic than Coin Street itself. This presented the challenge of making sure people knew about Coin Street as an organisation, and the full spectrum of work they do and services they provide.  
To help achieve this, Coin Street brought in the Un.titled team to oversee a complete website redesign. The aim was to revitalise how they present themselves online, reimagine how they work internally and look at how best to optimise existing digital processes.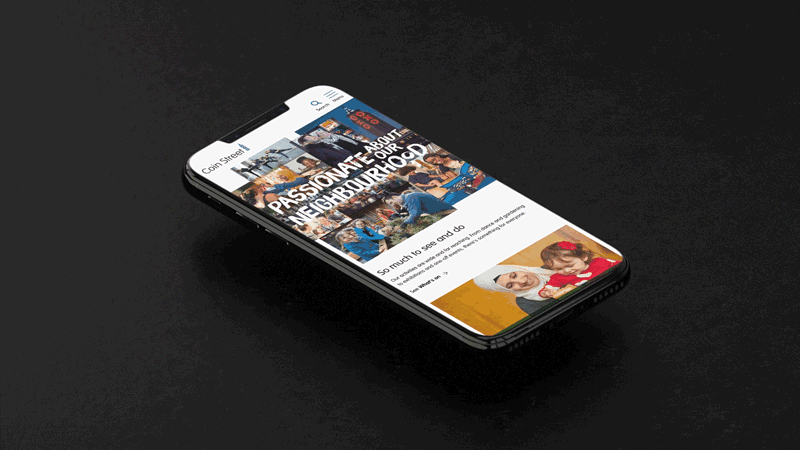 What did Un.titled do?
The OXO Tower previously had an independent website, but the recent project has seen the Oxo Tower and Coin Street sites brought together into a single website and experience for the whole neighbourhood. With Coin Street naturally wanting to simplify the management of their existing websites, amalgamating them made logistical sense and will help bring about efficiency enhancements for the team.  
The new site features a What's On calendar, which provides an overview of the various events Coin Street runs and allows people to book a place and get involved.  
There is also integrated payment for nursery services and space hire available through the website, while getting in touch with Coin Street's commercial team regarding venue hire is straightforward thanks to the new site. 
Other features include a guide to things to do in the area, and a directory of shops, cafes, restaurants and bars to enjoy. Add to this an improved look and feel and the reworked news section, and the new Coin Street website will enable the organisation to keep delivering excellent services and a positive experience for everyone who enjoys their neighbourhood.  
As well as the website revamp, Un.titled's digital marketing team also conducted an SEO analysis and review with the Coin Street team. This has supported the process of combining the previous Coin Street and OXO Tower websites to ensure no SEO value is lost in the transition, and continues to improve the visibility of the Coin Street brand.  
Leon Puplett, project manager at Un.titled, said: "We are always delighted to partner with an organisation that strives to improve the lives of their community, and with Coin Street we had an exciting opportunity to add value and support the organisation, as well as optimise the experience for people who enjoy the neighbourhood Coin Street serves."