What some of our clients say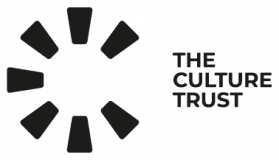 +0% +56% More tickets sold YoY
Working with Un.titled was a pleasure. The scoping process for the site gave us a unique insight into who our customers are and the journey they take when visiting our site, which was fundamental to the final build. Our website now reflects more effectively who we are and what we do. In the first 6 months since the launch, we have seen our engagement levels rise significantly.

Guy Smith, Director of Business Performance, The Culture Trust Luton
As a group, we greatly enjoyed the creative process brought to the project by Nick and the Un.titled team. They challenged us to think differently about how customers see us, and the result has been a website that has received a positive response for new and regular users alike!

Phil Jackson, Theatre Manager, The Minack Theatre
Working with Spektrix
We have lots of experience in working with Spektrix and a good working relationship with the Spektrix team. We attend events, know the team, work and hassle them on a regular basis.
Whenever we work on a Spektrix project, we engage directly with Spektrix so we can ensure the various integration pieces and requirements happen seamlessly, at the right time and in the right way. This collaboration is good for everyone in terms of good ideas and innovative solutions.
We have developed Spektrix-specific plugins, using the Spektrix API, which will enable us to 'sync' ALL event and performance information with your website.
The information pulled from Spektrix for each venue and event varies from project to project but will typically include:
- The event title (and subtitle if relevant)
- Event date ranges
- Individual performance dates and times
- Full pricing information
- Priority booking
- Ticket availability information (e.g. Sold Out, Limited Availability; Going Fast etc)
- Event location details
We can also make use of Spektrix attributes to pick up info about access performances, keywords, genre info, related events and whether an event is part of a season or festival of events
The key benefit of this integration is that it removes any need for the duplication of data-entry and gives the box office, marketing and sales team a single point of control over key event information if it needs updating, i.e. within Spektrix. You can then add additional marketing content in the CMS (e.g. reviews, photography, trailers etc). There are fewer errors (between Spektrix and your website), and you will see significant time savings (especially when loading up a new season).
In addition to event integration, we usually integrate other Spektrix web components into new websites as well. These include:
- Donations - add different donation asks, wherever they need to be
- Membership web component - offer your audience dynamic ways to purchase memberships online
- Logged-In Status - show visitors whether they're logged in as they navigate around the site
- Dynamic Basket - show a summary of the number and/or value of items currently in a users basket
- Gift Vouchers web component - offer customers dynamic ways to purchase gift vouchers
- Merchandise web component - offer audiences an easy way to buy a programme or interval drink, pre-show
Features Include: ...
Paywall Content
In our sector, there is no doubt broadcast quality digital content is (finally) going to play a bigger role. And while there is sometimes an exercise to up-skill and prepare for that (e.g. in pre and post production), they are relatively well trodden, well known processes which you are more or less, in control over. Free and paywalled gated digital content is here to stay.
Gated Content
We've previously developed gated solutions for clients so we're not reinventing the wheel here: it's simply not necessary. What we have done with Spektrix, is put together a powerful module for our Spektrix clients so that they can gate their content flexibly.
Spektrix Styling
As part of our experience of working with Spektrix, we're also extremely experienced at styling the Spektrix purchase pathway. This is a requirement of every Spektrix project (Spektrix don't do this themselves, you do, which essentially means your web agency) and one that requires a level of knowledge of how the Spektrix web interface works.
FAQs
Can Un.titled support with Data Integration for Spektrix?
Absolutely. We are experienced in the data integration and migration game, and are able to seamlessly bring your site and the Spektrix platform together.
Does Un.titled offer ongoing support?
Yes. We can oversee your Spektrix integration, ensure that all the creases are ironed out and continue to develop your integration over time. This lets you continue to thrive with the Spektrix platform as you grow and mature.
Have you used Spektrix with other customers?
Have we! We have worked with plenty of customers who have included Spektrix as part of their project scope. These include JW3, Minack Theatre, Play to the Crowd, Culture Trust Luton, Reading Arts and Queens Hall. Spektrix has also been utilised by other clients such as Eastbourne Theatres and ArtsDepot, while Live Theatre is migrating to Spektrix.