The Challenge
CAS came to Un.titled part way through an extensive research and cataloguing project, in which they were recording their entire history of acquisition, gifts, bequests and special projects since 1910.
The organisation asked Un.titled to undertake a UX evaluation project and deliver insights that would help CAS better understand the approach to take when creating an accessible online catalogue of artworks.
This was a super project and an important one. The CAS catalogue and collection plots the entire history of acquisition, gifts, bequests and special projects since 1910, covering some 12,000+ art works and associated artists, that are now held by more than 70 museums across the UK.

Brian Healy, Head of Agency, Un.titled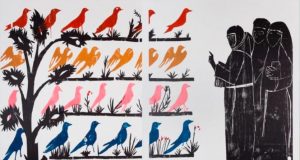 CAS estimates it has gifted 12,000 artworks to museums since 1910, and believes approximately 9,000 'agents', including artists, professionals, funding bodies and museums, have been involved in these transactions. However, it is thought only half of the collection had been catalogued prior to Un.titled's involvement. 
CAS wanted to make its full collection openly accessible online to as many people as possible in a timely manner. They also wanted to make visible the network of people involved in buying and gifting contemporary art, and to transform public knowledge of regional collections and engagement with the works through digital access.  
Additional goals included enhancing user engagement, to innovate and embrace technology to enable people to access the CAS collection, to inspire more people through art, and to support fundraising and research. 
Bringing the CAS catalogue online presented an opportunity to broaden the collection's reach. But if the project was done well, there was an even greater opportunity present. This centred around: 
Setting a new bar for online collection systems 
Positioning CAS at the forefront of collections management 
Helping to ensure the future of the CAS catalogue 
Opening CAS to new audiences beyond scholars and professionals. 
Services
UX and Visual Design
User Research
User Testing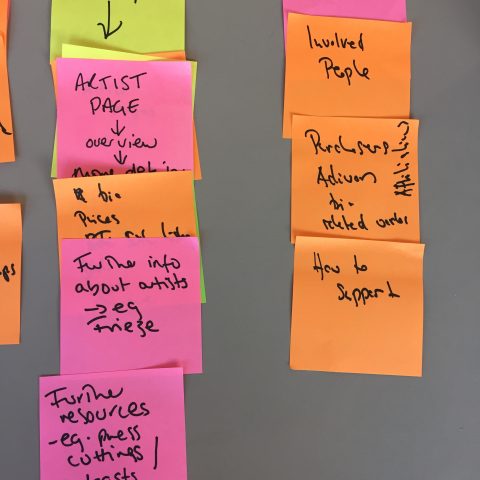 The Process
With this vision front and centre, the Un.titled team applied our measurement model to help answer two key questions: what should CAS's digital catalogue offer and how can it meet its users' needs?  
In order to answer these questions, we split our work into four phases. The first focused on objectives and personas, which saw us conjure up hypothetical users and identify their main priorities when using the CAS catalogue.  
We then conducted the user research phase. Here, we used Google Analytics data for the current CAS website as a reference point for the likely online behaviour of users on the CAS online collection site. 
This provided us with a great insight into CAS user behaviour and audience demographics, and started to help identify areas that could be reviewed and improved.  
The user experience design phase saw us use content modelling, wireframing and user testing to assess how the site would be engaged with. This helped highlight any strengths or weaknesses present on the current site that could inform the development of the catalogue's design.  
 
The final user testing phase included user interviews, which we conducted through a set of semi-structured interviews with a range of interviewees across the audience types identified during the persona phase.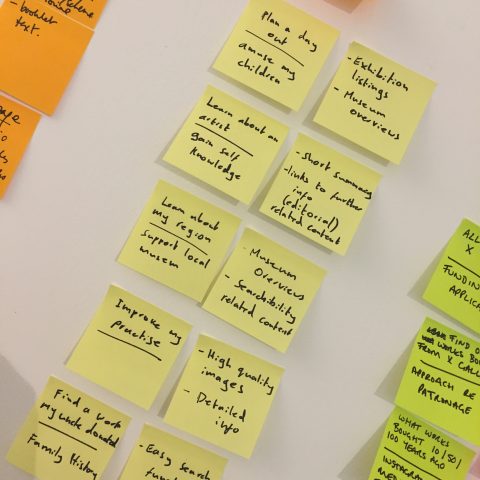 The Solution
By conducting this in-depth research, a series of insights and observations were achieved.  
We established that the online catalogue must raise awareness, present rich content and facilitate search in support of audience needs — whether that be curatorial access, supporting fundraising or for academic research.  
We helped define the key target audience groups most relevant to the CAS online catalogue, and developed digital personas representing them. These audience groups were specifically: academics, art professionals, CAS employees, stakeholders and museums. Our digital personas covered academics, art professionals, donors/patrons, interested members of the public, internal CAS employees, and museum members.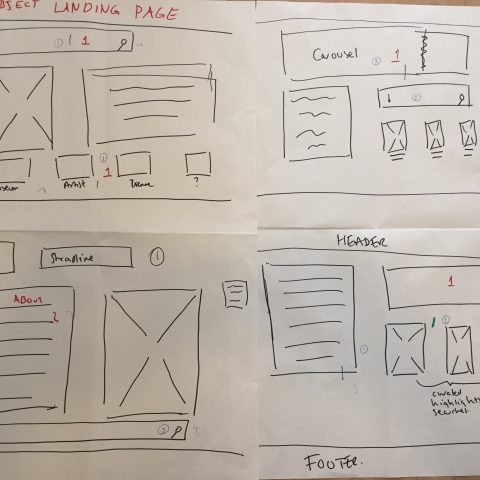 Ultimately, we helped establish what, as a minimum, users would expect of an online resource like the CAS online catalogue and make it a useful resource. The factors that jumped out were the need for detailed layered information, good quality images and a sophisticated search.  
We also pinpointed certain aspects that would take the catalogue towards being groundbreaking and unique among its peers. This included adding as much context as possible, additional tags and content to aid (re)search, and guidance for the user to answer questions around 'taste' and 'value'. We also identified the practical limits of CAS's support for facilitating artwork loans. 
The biggest takeaway from the user testing phase — apart from certain structural and cosmetic changes — was the need for plentiful and accurate data, the latter being the most important regardless of the former.  
Collectively, the insights and recommendations Un.titled uncovered provided CAS with a series of actions that can help them rework the user interface of their catalogue and collection system. This has the potential to deliver more for CAS users, and open more people's eyes to the brilliant collection of artwork available.